Are we protecting our children?
Silence about pornography indicates approval.
90% of children have accidentally viewed pornography
• Pornography has destroyed the lives of many individuals – including countless children.
• Pornography is addictive, and the addiction is progressive:
• Once addicted, a person's need for pornography escalates, the person grows desensitized to obscene material, and this escalation and desensitization drives many addicts to act out their fantasies on others. 1
• Experts believe that a porn addiction may be harder to break than a heroin addiction. 2
• Pornography destroys marriages and families. Excessive interest in online porn strongly contributes to divorce. 3
• Pornography seriously damages a child's mental and emotional development. Children cannot filter porn out of their worldview; thus, exposure to pornography at a young age creates an unhealthy view of human sexuality.
• Children who are exposed to pornography tend to exhibit sexually deviant attitudes and behavior, including sexual violence and crime.
• Violent porn reinforces aggressive behavior and negative attitudes toward women.
• Pornography plays a significant role in sexual violence. The most common interest among serial killers is hard-core porn.
• Given the overwhelming evidence of pornography's harm, parents should act to protect their children from pornographic material. Efforts might include:
• Warning children about the dangers of
pornography
• Establishing online safety basics
• Using computer filtering software
• Defining clear media standards
• Monitoring the amount and quality of all
media children consume
• Giving children a compelling biblical worldview regarding God's design for sexuality and relationships – focusing on the good, the true and the beautiful.
From Focus on the Family, http://www.focusonthefamily.com/socialissues/pornography/pornography/talking_points.aspx
1Dr. Victor B. Cline, Pornography's Effects on Adults & Children (New York: Morality in Media, 1999), p. 5
2"The Science Behind Pornography Addiction," U.S. Senate Committee on Commerce, Science, and Transportation (expert witness testimony), 18 May 2005.
3"Is the Internet Bad for Your Marriage? Online Affairs, Pornographic Sites Playing Greater Role in Divorces," PR Newswire, 14 November 2002.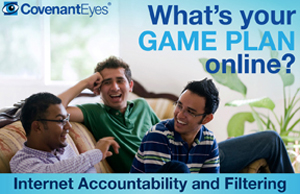 Get your first 30 DAYS FREE